PK Lee's Foodie Corner
Venue:

Aunty Christina's Sarawak Laksa

Cuisine:
Local Malaysian / Sarawak (Non-Halal)
Address:
No.6 Jalan 21/19
Sea Park
46300 Petaling Jaya
Selangor Darul Ehsan, Malaysia
Contact:
+6016-3153213
Facebook Page:
Aunty Christina's Sarawak Laksa
Click View larger map in the map below on your smartphone to open the location on Google Maps for GPS navigation and directions.
Aunty Christina has been recommended to me a few times. She is well-known in Bangsar for many years before shifting to a new location in Sea Park PJ.
However, due to some inconveniences, she decided to shift again to a Chinese coffeeshop (opposite the KFC landmark outlet here) which coincidentally is also where the famous Lao Ping Hokkien Mee is located.
Taking advantage of the holidays on Wesak DayA holiday traditionally observed by Buddhists and some Hindus on different days in India, Sri Lanka, Nepal, Tibet, Bangladesh, Bhutan, Indonesia, Singapore, Thailand, Cambodia, Laos, Malaysia, Myanmar, Mongolia, and in China, Japan, Korea, Taiwan and Vietnam as "Buddha's Birthday" as well as in other parts of the world. The festival commemorates the birth, enlightenment (Buddhahood), and death (Parinirvāna) of Gautama Buddha in the Theravada or southern tradition. and Awal MuharramThe Islamic New Year, also known as Arabic New Year or Hijri New Year, is the day that marks the beginning of a new Hijri year, and is the day on which the year count is incremented., my "Budo" mates and I decided to gain a few kilos by paying the petite lady a visit.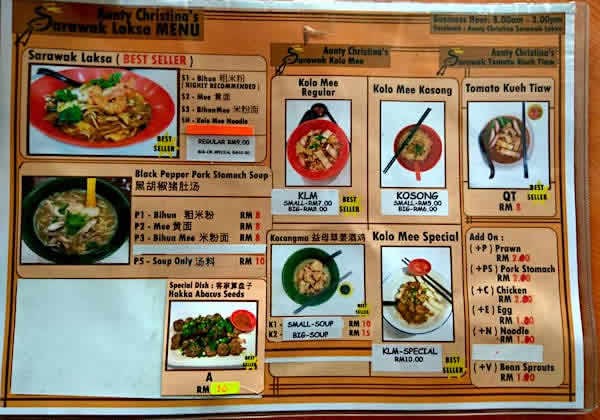 Due to the variety of items available, I decided to come twice and divide my "targets" into two days. 😬
Here are several items which my mates and I ordered:
Sarawak Laksa.

Absolutely fabulous. Despite having tried Sarawak Laksa at different locations around KL and Kuching, I dare say this lady had certainly set the benchmark for good Sarawak Laksa.

The unique Sarawak taste is there and to tell the truth, it has a "herbal-like" feel which made me finish the soup to the last drop.

The prawn servings are fresh and accompanied the laksa soup well.

Sarawak Laksa

Kolo Mee.

This dish taste pleasantly "light" .The char siew is tender, smoothly chewy and its a pleasure to savour every bite.

Best of all, the small bits of crunchy pork lard made my day and took me to the heavenly realms.

Kolo Mee

Hakka Abacus Seeds (Suen Pun Chi).

This is really a rare treat for many foodies. In fact, an old couple who sat not too far away from our table actually recommended this food item to me, as they happily munched away.

One little nibble from me and letting the taste spread across the tongue for a few long seconds made me understand why the old couple adamantly insisted that I order it.

Hakka Abacus Seeds (Suen Pun Chi)

Homemade Hokkien Meat Roll.

This taste freshly made and together with the Hakka Abacus Seed is a good companion to the Sarawak Laksa and Kolo Mee.

Homemade Hokkien Meat Roll
However, to my disappointment, I could not try Aunty Christina's Tomato Kueh Teow. My stomach complained and insisted that I make another journey instead, or otherwise, it would conspire to give me a memorable constipating trip as a follow-up for the memorable foodie adventure.
Do drop by to this place for an enjoyable East Malaysian Sarawakian meal!
Your Mate-in-Hunger,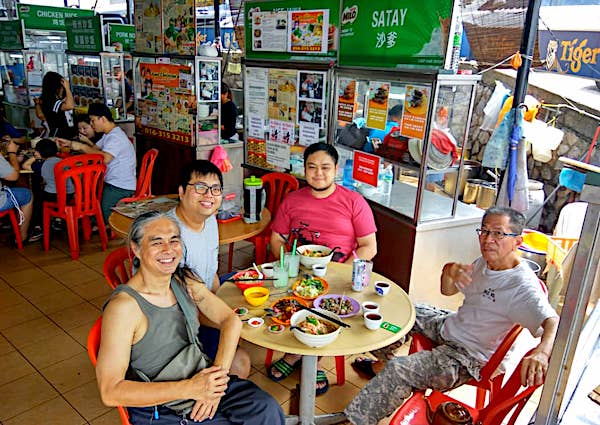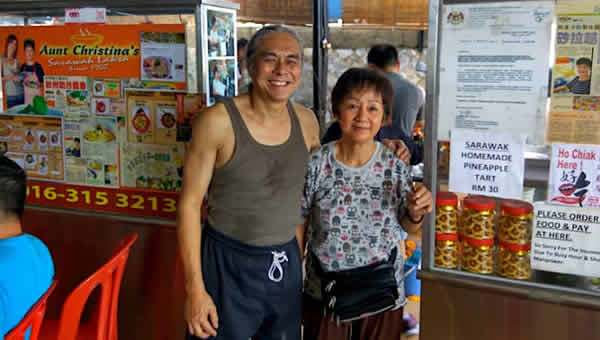 SEE ALSO:
---