Having watched the 2018 film Bohemian Rhapsody, one can be forgiven to presume that it is naturally easy for a good actor like Rami Malek to be able play the role of a quirky musician such as Freddie Mercury and portray him convincingly well. Only thing is, it's not easy being Freddie. As Malek reveals in his interviews, he went through a process to become Freddie Mercury in the highest grossing music biopic ever, Bohemian Rhapsody.
"I have these teeth that I wear and the first time I put them in my mouth, I..it was incredibly insecure and then I found myself compensating…"
In his interview on The Tonight Show Starring Jimmy Fallon (see below), Rami Malek relates how putting on prosthetic teeth helped him slip into character, and made him realise the reasons that made Freddie Mercury the way he was in real life.
Here's the interview of Malek with Jimmy Fallon where he talks about his Freddie Mercury transformation:
Like It Wasn't Difficult Enough Just Playing Freddie…
"I told them when I sat down, I go…listen guys…I'm not really a Hollywood actor that sells myself here…I don't play the piano, I don't think I'm a singer, you know…and I have a very unusual way of dancing…"
Despite being honest and modest about his inability to play the piano, sing and dance, Malek was eventually cast and selected to play Freddie Mercury. Malek underwent a year of learning how to be Freddie, including taking piano and singing lessons, although most of the singing in the film was done by Marc Martel and not entirely Malek's alone.
He also took some lessons to get his body movements right, and worked with film director Graham King on technical skills, but drew the line when it came to choreography. As he tells The Hollywood Reporter, he decided not to enlist the help of a choreographer as Freddie Mercury's movement was always highly spontaneous and it was something Malek would have to figure out on his own in order to perform it well.
"I asked Graham for singing lessons, piano lessons. And what I really knew I needed was to capture his spontaneity. The man's not choreographed. Every time he steps out onto a stage, no one knows what he's going to do, and that's what I knew I needed to tether myself to. In order to do that, I realized, I can't work with a choreographer, I need someone to help me with movement, someone to help me discover the impetus for why he does what he does. Why every flick of the wrist occurs with him in such an elegant, sometimes dainty and sometimes aggressive way, depending on his mood. I just had to find his humanity — what his conflicts were — and discover all the sides of him, because I knew there was more to Freddie Mercury than a man who holds an audience in the palm of his hand. But I had to get that down as well."

– Rami Malek, on not working with a choreographer for his role in Bohemian Rhapsody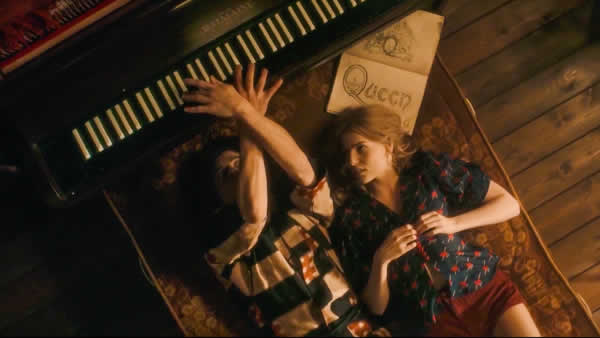 Of all things that I had to do in this film, it was like, it was gonna be so difficult enough just playing Freddie Mercury, then I flipped to Page 16 and it says in the scene description, "Freddie plays piano upside down."…and I thought, "Oh god…"
Malek revealed in his interview that he was scared of learning to play the piano when he was growing up, and how having to do it for a movie character of someone who did it remarkably well in his career and life would prove to be a big challenge for him, probably a bigger challenge than for another actor who might have been cast for this role.
In an early scene of the movie, Mercury is seen playing the piano upside-down as he comes up with the foundation for his acclaimed song "Bohemian Rhapsody" (see photo above), which shocked Malek when he first saw it in the script. No easy feat for someone who feared learning to play the piano, and that Freddie Mercury was double-jointed in real life made this a "contortionistic" challenge for the actor.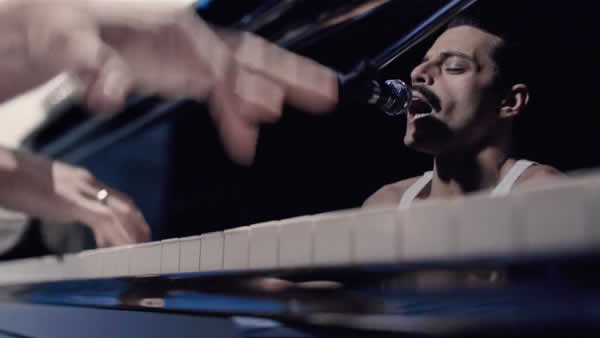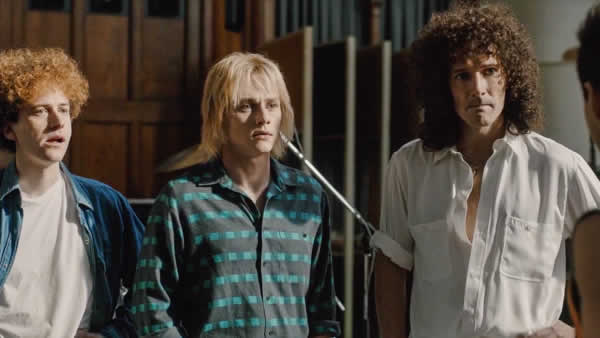 Malek also had excellent help from make-up artist Jan Sewell and costume designer Julian Day to complete his get-up. As Sewell explained in a separate interview, matching the right teeth for Malek was a process of trial and error:
"When we got Rami to try the exact teeth, they were too big. We did go on to make 20 sets of teeth. Admittedly, some of them were doubles and back-up teeth, but we just kept changing them. Everybody was very aware that the teeth had to be there, but they couldn't be so prominent that they would get in the way. We were changing them — millimetre shorter, a millimetre further back, some teeth without molars in the back. We did eventually get the right set."

– Jan Sewell, make-up artist for Rami Malek on Bohemian Rhapsody
The Live Aid Concert Scene
"It's surreal walking out there after watching that concert so many times…"
Malek tells of how the cast was directed to play the Live Aid concert scene on the first day of shooting. No doubt, this would be a tall order for any actor, even for one who is immensely talented and experienced.
Presumably, as Malek mentioned in light-humour conjecture, the production team was not going to risk shooting the entire movie only to discover that the iconic rock concert performance at the end of the film could not be reenacted by the cast convincingly enough. As Malek said in the interview, when he got the call shoot for Day 2, it was like winning the Oscar.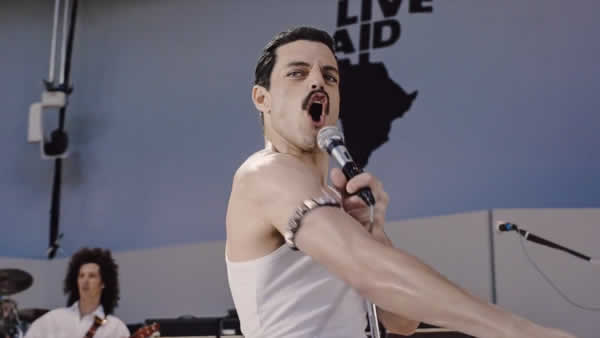 As the Wembley Stadium where the concert was originally held no longer exist, an exact replica of the stadium was built for this final scene.
Despite criticisms that parts of the movie storyline were not how it actually happened in real life in the history of Mercury and Queen, the reenactment of the Live Aid concert at the end of Bohemian Rhapsody was quite close to the original concert that took place in 1985. Watching and comparing both versions of the Live Aid concert, one cannot help but be amazed and awed by the accuracy and attention to detail with respect to the original performance.
Watch the following video to see how close the Live Aid scenes in the movie was to the actual concert performance. The audio and video on the left are from the movie Bohemian Rhapsody, and those on the right are from the original concert:
Kudos to the production crew for adhering to the historical concert performance in high fidelity, to the bandmates for complementing the stage scenes so well, and to Rami Malek for his stellar performance as the unmistakable Freddie Mercury.
Not surprisingly then, that Rami Malek won Best Actor in the recent 91st Academy Awards ceremony for his portrayal as Freddie Mercury in Bohemian Rhapsody.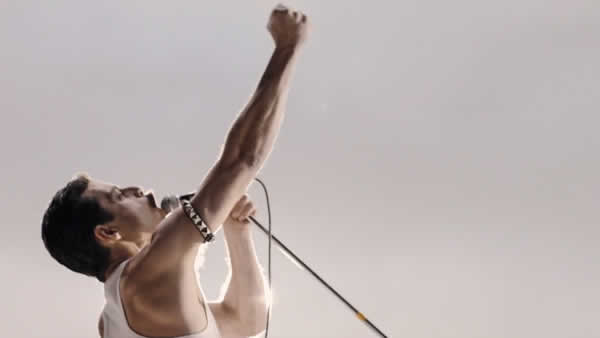 ---
---