It's quite safe to say everything we read is about humanity. If otherwise, it somehow or rather still points back to us. How else would we become the superior species if we do not indulge in some narcissismExcessive interest in or admiration of oneself and one's physical appearance.? Here are four books that I've read recently – one historic and three science fiction.
1

Sapiens

Yuval Noah Harari's Sapiens is all about us humans (scientifically known as homo sapiens). It's a moderately thick and brief history book which touches every major step of our journey from our humble microorganism beginnings to the present and a prediction of the possible future.
"When the first humans reached Australia about 45,000 years ago, they quickly drove to extinction 90% of its large animals. This was the first significant impact that Homo sapiens had on the planet's ecosystem. It was not the last…"

– Yuval Noah Harari, author of Sapiens
Homo sapiens are often pictured as a villainous bunch with, more often than not, malicious intents. We could go on and on decimating our own home world, while assuming the throne at the top of the food chain.
"The most dangerous thing about terrorism is the over-reaction to it."

– Yuval Noah Harari
2

1984

Our history as the world's big brother could well continue to become the dystopian future described in George Orwell's 1984. The classic science fiction novel started off well enough but the violent and sadistic storyline proved too disturbing for my liking.
"The most effective way to destroy people is to deny and obliterate their own understanding of their history."

– George Orwell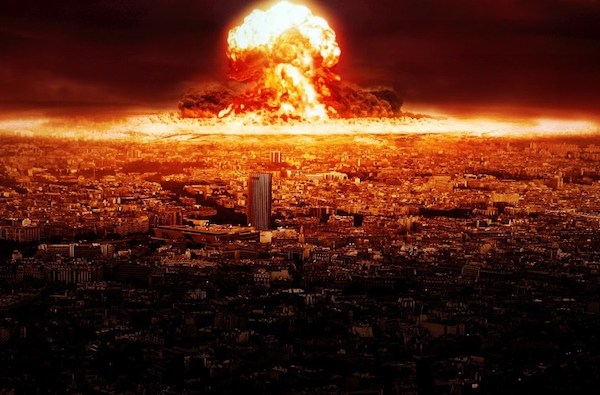 For the full review of this book, see Book Review: 1984.
3

Remembrance of Earth's Past

"We could go on and on decimating our own home world, while assuming the throne at the top of the food chain."

What if… what if there are bigger, badder bullies out there like those in Cixin Liu's Remembrance of Earth's Past trilogy? Humans are on the path to self-destruction anyway but we never realised how blessed our home world is until a desperate alien race discovered earth. The trilogy is all about how humans face the impending doom as the aliens journey to conquer earth. These aliens do not intend to share the planet with us.
"Is it possible that the relationship between humanity and evil is similar to the relationship between the ocean and an iceberg floating on its surface? Both the ocean and the iceberg are made of the same material. That the iceberg seems separate is only because it is in a different form. In reality, it is but a part of the vast ocean…"

– Cixin Liu
"Weakness and ignorance are not barriers to survival, but arrogance is."
Do not misunderstand the trilogy for an action-packed war against alien invasion. It's more of a story that tests your intellect on humanity and understanding the complexity of science fiction. While the first book, The Three-Body Problem was quite good, I got lost in the last book when the author talked about dimensional space. The trilogy is not for you if you are in for lots of action and aliens because you are not getting much of either.
4

Prelude to Foundation

Fast forward tens of thousands of years, homo sapiens, if left to our own machinations, would not hesitate to colonise millions of worlds which is the setting of Isaac Asimov's Prelude to Foundation (and I suppose the rest of the Foundation series which I'm looking forward to reading). Amazingly, the millions of worlds are ruled by a single empire which is on the path of decay. This opens up the opportunity for a new… foundation.
"Violence is the last refuge of the incompetent."

– Isaac Asimov, author of Prelude to Foundation
In Closing…
All those books mentioned above described well what humanity is capable of in the past, now and the future. We tend to keep going in circles, repeating our humble beginnings and then let loose our arrogant and violent beasts within. We will end up destroying ourselves or by others, only to start all over again. If only this circle could be broken…
N.B. The book titles discussed in this article may be purchased either as a hard copy or for the Kindle in the links below.
---
---