1984 is set in a dystopianrelating to or denoting an imagined place or state in which everything is unpleasant or bad, typically a totalitarian or environmentally degraded one world where three megalomaniac superpowers Oceania, Eurasia and Eastasia constantly go to war without any sign of a cease-fire. There is no freedom, only suppression with a government that constantly fabricate news at its own whim. The book tells this story by focusing on the life of one Winston Smith in the lower ranks of the ruling party. Being restrained only made him attempt to indulge in the thrill and pleasures that will easily get him killed. There's a love story and there's the expected anti-government league called the Brotherhood.
"Regardless of whether or not the characters are relatable, the book definitely serves as a cautionary tail to all those who have scanned it pages."
In later chapters, the book tends to evolve into a sort of doctorate thesis on war. There is even an Appendix on the creation of a new language designed to suppress any thinking and intelligence left. I was finally getting used to the flow of the story and then the author had to do a huge long narration on war. My brain which is not PhD material started to shrink and I became lost. My only salvation was to skim through these portions quickly and pretend to understand. To be fair, I think George Orwell cooked up some awesome and original work creating such a language.
I even find the book quite sadistic and felt a tinge of nausea in the torture scenes. I simply do not know how to appreciate this kind of literature even though deep down I suspect the author was trying to send us all a message what the world could have been if we got the wrong leaders. I bet these are all relevant when he wrote it back in the 1940s.
"The most effective way to destroy people is to deny and obliterate their own understanding of their history."

– George Orwell
The book demonstrates George Orwell's wisdom in crafting a world in shambles. The story is not unlike his Animal Farm (which I find more…pleasant), where there is a crazy, blatant abuse of power that is not immediately recognisable by its inhabitants. It serves as an over-exaggerated prophecy for current times.
"…at that time it was a prediction of things to come. In some ways it's pretty close. It is interesting that people are reading it more now because of the current situation."
I personally found the second half of the book a drag and couldn't wait to finish it. I felt a sense of relief when I had finally reached the end. It was a chore trying not to fall asleep reading a big portion of the book.
If you are looking for a story with a proper conclusion on the war, you can expect none so you might end up throwing the book to the wall in disappointment.
If you're looking for a story with heroics you won't find it here.
If you love dystopian novels with sadistic touches this one is for you.
If you have a thing for war you bet this one is for you.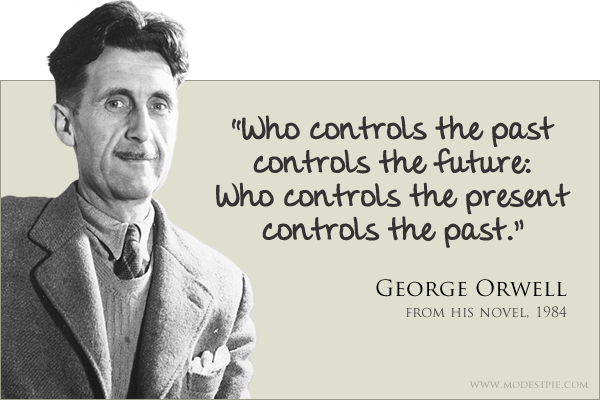 SEE ALSO:
---
About George Orwell
Eric Arthur Blair, better known by his pen name George Orwell (1903 – 1950), was an English author and journalist. His work is marked by keen intelligence and wit, a profound awareness of social injustice, an intense opposition to totalitarianism, a passion for clarity in language, and a belief in democratic socialism.
Orwell also served as a police officer with the Indian Imperial Police in Burma from 1922-1927 and fought with the Republicans in the Spanish Civil War from 1936-1937. Orwell was severely wounded when he was shot through his throat. Later the organization that he had joined when he joined the Republican cause, The Workers Party of Marxist Unification (POUM), was painted by the pro-Soviet Communists as a Trotskyist organization (Trotsky was Joseph Stalin's enemy) and disbanded. Orwell and his wife were accused of "rabid Trotskyism" and tried in absentia in Barcelona, along with other leaders of the POUM, in 1938. However by then they had escaped from Spain and returned to England.
Between 1941 and 1943, Orwell worked on propaganda for the BBC. In 1943, he became literary editor of the Tribune, a weekly left-wing magazine. He was a prolific polemical journalist, article writer, literary critic, reviewer, poet, and writer of fiction, and, considered perhaps the twentieth century's best chronicler of English culture.
Orwell is best known for the dystopian novel Nineteen Eighty-Four (published in 1949) and the satirical novella Animal Farm (1945) — they have together sold more copies than any two books by any other twentieth-century author. His 1938 book Homage to Catalonia, an account of his experiences as a volunteer on the Republican side during the Spanish Civil War, together with numerous essays on politics, literature, language, and culture, have been widely acclaimed.
Orwell's influence on contemporary culture, popular and political, continues decades after his death. Several of his neologisms, along with the term "Orwellian" — now a byword for any oppressive or manipulative social phenomenon opposed to a free society — have entered the vernacular.
For other titles by this George Orwell, please see the links below.
---
---
---