Recent years have seen a trend in young couples opting to live in small living spaces accomplished with low construction cost. These homes usually feature very smart use of available space for movement and storage, often with elegant interiors as well as exteriors that are unexpected of these low budget builds. Then again, money saved on a mortgage could very well be used for aesthetics and decor.
Living in a Tiny House
Today we will be looking at how Matt and Lisa pulled together some resources and build their own tiny home in that fashion. Located in the Blue Mountains, Sydney, Australia, their tiny house on wheels boasts a comfy and cosy interior. Follow Bryce Langston as he walks you through the features of this tiny but incredibly practical home with homeowners Matt and Lisa.
Building Costs and Features
According to Matt, excluding land cost, this ultra-modern tiny house had cost AUD80,000 – 90,000 to build. While it is not considered "on budget" for most tiny houses, the overall build quality and interior living spaces exhibit quality craftsmanship and ingenious space and layout planning. It helped that Matt is a skilful builder and runs a business remodelling kitchens and bathrooms of his own. He also had some muscle help from friends.
Some of the highlights of Matt's and Lisa's container home are:
Double-deck space with high ceiling
Spacious toilet and bathroom with dual showers.
A flush toilet connected to the main sewerage system that allowed them the option of not using a composting toilet.
His-and-hers full-height clothes storage just outside the bathroom that serve like a walk-in wardrobe.
Plenty of storage space at areas under the sofa, under the stairs and overhanging cabinets.
Under-step lighting for safely moving up and down the stairs in the dark.
Ceiling fenestration that allows in natural light with the option of shuttering using automatic sliding blinds.
A large capacity air-conditioning unit sits centrally high on the home to provide necessary cooling when required.
A chimneyed indoor wood stove burner provides heating during cold weather.
An outdoor pen that is connected to the home interior via a tunnel as a safe playing area for the cats and to keep the kitten litter outside the house.
"That is my custom-designed cat run, it seems simple when I first began doing it but definitely had to lean on my mates to give me a hand with it. Basically I've got these 2 cats and they're my children and I didn't want anything to happen to them…and also I didn't want the kitty litter inside coz it's too small…"
Despite the house's diminutive size, the couple had not compromised on the size of their flat panel TV. From the video, it seems like the TV could be a tad too big given the relatively short viewing distance at the lounge area, but hey, the couple who lives there would know best!
Lisa did mention that she would have loved a composting toilet, but Matt probably made the right decision to go with a flushing toilet. After all, the main sewerage line was already available and for less hassle in maintenance and waste disposal, it just seems like a good idea to connect to an existing one.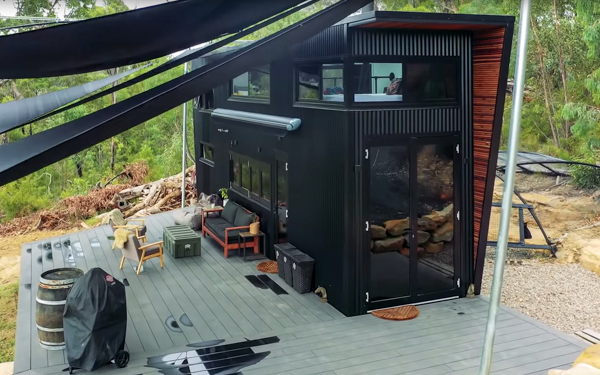 Ingenuity Goes a Long Way
It is always interesting to see how others make do with compromises living in a tiny house. Nevertheless, necessity is still the mother of invention, and in such small living spaces, the dwellers normally quickly learn that ingenuity in design and space planning goes a long way.
And apparently, Matt and Lisa did a marvellous job with this "little" project of theirs!
---
End Credits
The video above was produced by Living Big In A Tiny House, the channel where Bryce Langston uploads short documentary-style videos on small space living that he creates. Please consider becoming a Living Big Patron and helping to support their channel: https://www.patreon.com/livingbig
To follow Matt and Lisa and to find out even more about the construction of this home, be sure to check out their Instagram: https://www.instagram.com/mattandlisabuildatinyhouse/
If you're in Australia, you can also find out more about Matt's company at https://www.hobbsbathrooms.com.au/.

---
---